A 2014 study from the American College of Obstetricians and Gynaecologists found that there was a lack of awareness, services and medical assistance available to pregnant transgender men. Transgender men can also experience gender dysphoria or renewed issues with their body during pregnancy.
A number of transgender men have gone through successful pregnancies in recent years -- and throughout history, for that matter -- some of them long after beginning hormone replacement therapy. In one well-known example, the Village Voice published a narrative about Matt Rice, a transgender man who conceived in 1999 through artificial insemination and gave birth to a baby boy. Other pregnancies among transgender men have been documented in media reports more recently.
Here are some of them:

Wyley Simpson and Stephan Gaeth
Pregnant Wyley Simpson (2018)

They received "a fair amount of abuse" from strangers.
He also said that people on the street called him "it" and said he would never be a man.
"The comments hurt but it will never stop me from being a father.
"My child is happy and healthy and he will grow up being able to express who he is as an individual and be so much more easier than what I had."
Wyley Simpson, with his fiance Stephan Gaeth, both 28, and their newborn son Rowan (2018)

Wyley Simpson and Stephan Gaeth reference source:

https://www.pinknews.co.uk/2019/03/07/transgender-man-gives-birth-baby/
https://www.dailymail.co.uk/femail/article-6776865/Wyley-Simpson-transgender-man-gives-birth-baby-boy.html
The first British man to give birth has opened up on the struggles he experienced being pregnant.

"I wouldn't advise anyone to do it if I'm honest because it was really hard," he said.
Admitting his struggle with the idea of giving birth was the reason he chose to have a C-section, the new dad went on to explain it was "pretty straightforward".
The former supermarket worker however said he couldn't have done it without the support of his friends and family as the pregnancy and birth mentally took its toll.
Hayden (2017)

Hayden reference source:

https://www.news.com.au/lifestyle/real-life/man-who-gave-birth-opens-up-about-difficulties-being-pregnant/news-story/344dcdf28b02680ee3889ea4fe41bdac
Reese and Chaplow
Reese and Chaplow (2017)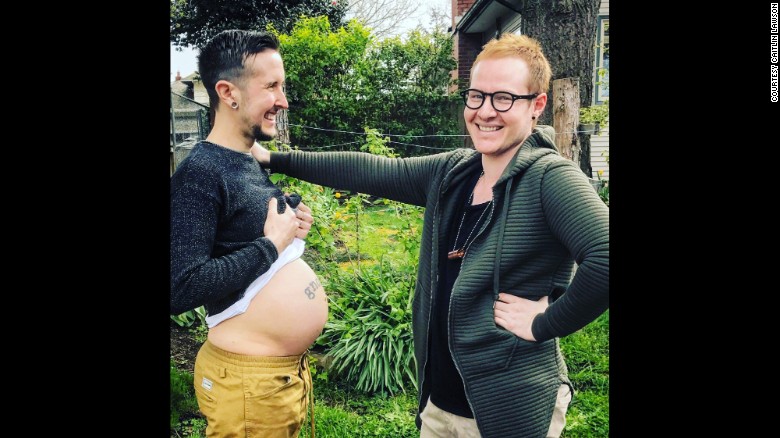 Years earlier, they had adopted Chaplow's niece and nephew after his sister was no longer able to take care of them. They raised the two children as their own.
With their adopted niece and nephew

Reese and Chaplow, perhaps more than anything else, want to make one thing clear: they are not the first. Far from it.
Reese and Chaplow reference site:

https://www.oregonlive.com/pacific-northwest-news/2017/08/transgender_man_gives_birth_to.html
https://edition.cnn.com/2017/07/31/health/trans-man-pregnancy-dad-trnd/index.html