South Korean singer Holland, generally celebrated as the first out, gay K-Pop star, is reporting that he was the victim of a homophobic hate crime last night.
According to an Instagram post from Holland, he was out with his manager and a friend when he was called "a dirty gay" and hit twice in the face, leaving him with a bleeding wound across his nose.
"Last night, I was walking around Itaewon with my manager and a friend," Holland wrote on Instagram. "Suddenly a stranger man approached me and hit me on the face twice, calling me 'a dirty gay.' Now I have a scar on my face and I'm going to the hospital soon. This is obviously a hate crime."
"The fact that my sexuality as gay is public should never expose myself to this kind of violence," he continued. "Nor any other LGBT+ and all elders, women and minorities in this world. This happening in 2022 shows the sad reality of LGBT+ human rights."
Holland also said that he reported the incident to police and is awaiting their findings. "This should never happen to anybody in this world, no matter who you are," he closed. "I wish our world is filled with more love and hope rather than hate and violence."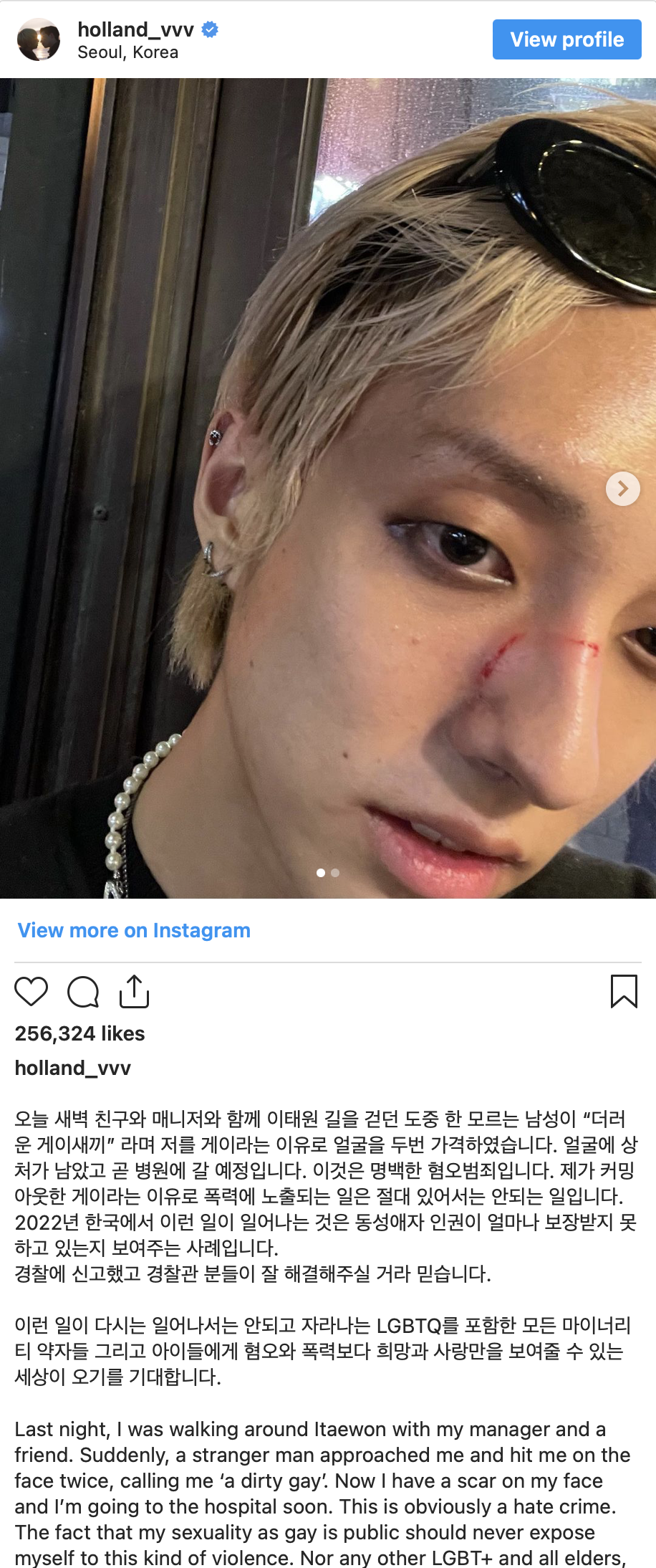 The 26-year-old (whose real name is Go Tae-seob) had been out to his friends since middle school, and often faced bullying in school because of his sexuality. When he made his musical debut in 2018, he was fully out, and his 2019 music video "Neverland" was given a 19+ South Korean rating for including LGBTQ+ content. Still, it received over 1 million views in its first 24 hours.
He recently revealed to his fans that he has a "very handsome and kind, tall" boyfriend. He shared the news during a live stream in which he said he wanted to marry the man.
He also said that being out in the conservative country of South Korea was difficult, and he was initially discouraged from coming out. "The agencies I spoke to prior to my debut told me not to disclose it," he said to KPOP Herald in 2019. "After I came out and debuted though, that was not an issue anymore."